This used to be the cheerful renfu i know..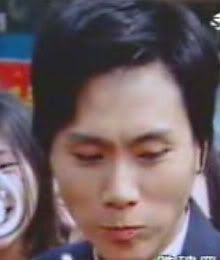 And this?! My-oh-my. Is that really renfu?
And this is better. (;
Awww, after watching ytd's renfu mi mi ri ji.
I felt so sad for him.
He misses Taiwan so much!
The "Haiz" that renfu said was sooo....
Haiiz, but glad that he's better now.
Came across MTV and they were playing 5566- One Light Year.
Well, it brought back many memories.
The good as well as bad.
? Renfu was still in Taiwan.
? My father hasn't left me.
? Those primary school days i miss.
? Stress-free life.
? My p6 class.
? Money wasn't a problem.
? Life was happy.
Those days seemed really happy.
Innocent girl i was.
(?)
Everything changed.
Ahhh, felt so emotional all of a sudden.
I just hope time could rewind...
Where i knew that i lived in the world for a purpose.
Now... I don't know why am i even existing here.
Well, let's not remind of the past.
The happy past.
Cineleisure!
Woke up early today to meet up with Sher.
Wells, she played para as usual.
And all i could do is watch her.
We bought a 2:15 ticket to watch ultraviolet.
Ahhhhh, regretted it.
Cos css is at 3pm!
And i missed the chance of seeing them. )=
So wasted! I was at the place, just that i don't see them.
And i saw so many people walking out of kbox with the kbox plastic bag.
ARGHHH, so wasted.
I get tired easily nowadays.
And i'm tired now.
What if i forget renfu ?
i'm starting to lose interest in wanyu.
I don't know. Help me someone.
I don't want to forget renfu....
Nowadays can't really log in to the forum.
Everytime i click home or back, i've got to sign in again.
Haiiz.