YOHO PEOPLE. xDD
It seems it's still 20th may today aye.
On the post it seems so.
But one week passed.
It's
saturday
sunday i mean. xD
I cheated okay. To make it seem like i posted on 20th may.
HOHO. xD
------
Okays, woke up at 8 plus.
Went to fetch esther.
And reached that place at ermm 9?
Met geral jie, regina and qianci at the front of IMM.
Then we went to buy macs.
Okay, while walking back to the venue.
I saw my mum walking in IMM !
Gosh, she almost saw me.
If anyone recalls..
I acted weirdly outside giant.
Cos' geral jie, regina and qianci were walking to giant
but i pulled esther to hide behind a wall or something.
Those small portable shops. [If you don't get it. Nevermind]
Then i tried not to walk so close to them.
If my mum knows i'll die!
Luckily... she didn't see me. xD
We then went to queue up.
Heheh, was quite at the front cos i asked
geral jie to help me chop place.
THANK YOU ALOT!
If not i would be right at the back.
Thanks! xDDD
-------
I had sore throat that day.
So i gave esther my harshbrown. ]=
That's saddening.
We waited and waited.
Then jaslynn smsed me.
Said she was COMING!
Gosh, and there's this secret "trade" between esther and her.
Esther actually wanted to let jaslynn to sign for vivien.
[It's a confusing thing. ]
In this way. Esther came for nothing!
Wells, esther wanted to go up too.
So was jaslynn. Jaslynn's mum didn't allow her to buy.
That is the problem.
Regina also not sure if can let 1 more person in.
Well, but jasslynn still came.
[I'm sorry if i gave lots of trouble. ]
Then esther had to go...
Awww, esther you're such a good soul.
Even thou u wanted to go up to sign.
You still gave to jasslynn.
It's a longgg story lah.
Jiaxin nv say if she allowed.
But jasslynn still joined.
She doesn't care, lol.
But yeah, jiaxin never say anything.
So jasslynn just joined like that.
------
We went in about 12?
I can't remember!
Esther became real excited.
Thinking of what to say and how to look at shaowei.
Then geral jie/ regina asked if we wrote letters.
Esther became more excited.
Started to look for papers to write letter.
That's rather comical about her. [:
She doesn't like 5566 that is.
And yet she's more anxious than me!
Tsktsk. I think i brainwashed her.
Saw some people walking in with DONG GUA CHA.
Hahah, then we saw cartons of them xD
I bought one dong gua cha.
Haven't opened it so far.
But tasted esther's dong gua cha.
One sip only! hehehe. Rather nice.
Oh yah, we were at the barrier.
So we could see things clearly!
-------
5566 came at like 1:30?
About that time lah.
Hahah, they played games.
5566 chose 4 fans to play games with them.
Renfu chose someone from malaysia.
Holding the board... " ?? FC"
I forgot the first two letters.
She was kinda at the back so she had to
squeeze infront.
Then xiezhi went " Where's that F one?? F one?? She's gone"
[Not exactly, something like that]
Hahah, then he realized it was a bad word.
They played zhong ji mi ma.
I think the first to be eliminated is a fan, then xiezhi.
Hahah, i remembered xiezhi said 50.
then
ZHONG
!
Renfu was the overall winner.
I'm so proud of him. xDD
Heheh.
--------
This time I didn't felt like fainting.
It was good. xD
The last time i was squeed until i almost fainted.
Cos i was at the back.
Oh yah. Me and regina kept discussing what to say to renfu.
Hahah. Then i thought of
"仁甫。。我很期待你的《食神》
你要加油哦!"
(RENFU, WO HEN QI DAI NI DE SHI SHEN, NI YAO JIA YOU O)
And shaowei...
"绍伟。。 你的《爱情魔法师》
很好看!"
(SHAOWEI, NI DE AI QING MO FA SHI HEN HAO KAN)
It's my first time talking to them!
Gosh, iactually talked to renfu!
And he said. " 我也很期待。
谢谢"
(wo ye hen qi dai, xie xie)
Ahhh. Okay. Renfu really looked like he put on eye liner!
First time i really think that he puts on eye liner!
Okays, i'm so happy renfu actually replied!
Lol, i kept repeating what i wanted to say to him when i was on the stage.
Then i realized i also need to revise what to say to shaowei.
When i thought back again..
I realised that i almost said RENFU NI DE AQMFS HEN HAO KAN.
Wow, if i actually said that to him. Wonder how he react!
--------
Oh yes. I think i saw amanda.
CONFIRM IS HER I THINK.
cos she saw geral jie. xD
Hahah. Saw jingyan, peiqi, sheena too.
LOL. alot people from online de. xD
--------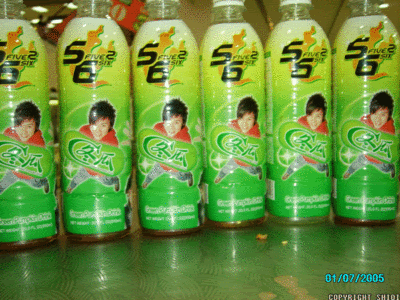 VIEW AUTO SESSION PHOTOS.
CLICK THE ABOVE LINK <333