Oh hello,
My blog sucks like hell now.
Soooo imageless.
I don't know how do I inset the damn picture on the top .
I don't have the code and It's soooo damn cut out.
UGLYYY. ):
-------------
HELLO!
Boredom's killing me now. );
OHMG.

CHECK OUT MY BLOG'S SONG!
DAMN COOL!
I know it hurts the ear, but heck care. It's gonna be there for weeks I think. (:
So entertaining. (:

Ohyeah, HAPPY BIRTHDAY TO EE LING! 28th May.
HAPPY BIRTHDAY TO GERALDINE too! 29th May.
HAPPY BIRTHDAY TO ESTHER'S AUNT! 29th May.
HAPPY HALF YEAR ANNI TO QING & JINGHAO! 29th May.

It's weird how I remembered people's birthdays/anniversary/whatever.
Just woke up in the morning and *DING* "Oh, it's ____ birthday/anniversary."
-.- I know.
It's just the first week of hols and I've gotten most of the stuff I wanted.
Second Ear Hole!
Contacts!
Haircut!
Sony Ericsson Phone. );

Basically that's it for now. I think I wanted more but I couldn't remember.
:p

Had a haircut @ Vamp yesterday.
(:
It's much more layered now, but I still hate the strand of hair that doesn't belong to the left or right side of my parting. It's like one strand alone. ); Eeewww.
& I never get the hairstyle it was when I get out of the salon.
After I wet my hair and everything, my hair is now disastrous.
It curls at my shoulder. );
Eeeew.
I wished my hair stayed what it was when I came out of the salon.
Y guys get what I mean?



Watched campus superstar yesterday..
Hahaha, some of them were really hillarious!
Saw Julie on tv and viv msg me"Like that the standard can go in, the judges abit sot arh."
HAHA, but well, she can dance. And she's not in the Top20 anyway.

Saw geraldine on tv helping this girl makeup & fufeng people i think.
The small boy's talented eh, haha.
I thought he was supposed to be underage, how can he join the competition? LOL.
Ohoh! & I've found my mom's family's successor!! (:
There's this HUM boy, don't know what's his name lah.

But hey, there's like sooo little HUMS in the world, there's a BIGGG possibility that he's related to my mom, haha!
HOHO! There's another addition to the HUM'S FAMILY LINE!
Ooohyeah.
-----------------
Sandra's at my house now, argh.
I can't use my own comp and I'm stuck in this "suana" like master bed room.
Tsk.
-----------------
Can't wait to meet Esther tmr! (:
It's been a longgg longg time ever since we last went out tgt.
But Qing ain't coming along I guess.
Jinghao said they're going out tmr. );
So it's just Esther and Me, one for a accompany is lonely.
I want the three of us out someday.

------------------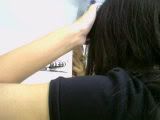 First signs of contacts. (: Photographer- Qing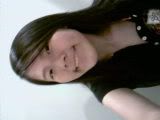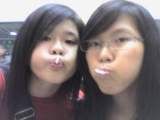 Puffer fishes.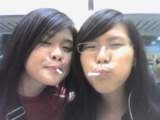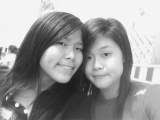 BOO you


Opps, you got me.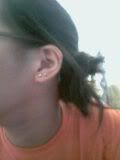 My ear. Opps, it's bad hair day.
-----------------
Life's the best without any prefects. YOU SEE.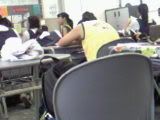 HO! Viv's sleeping during class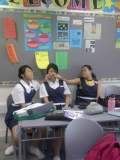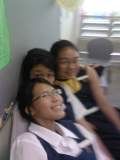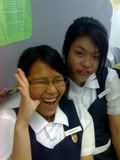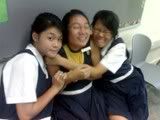 Pathetic teacher.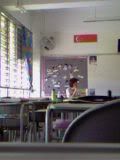 Only 10/40 students were there.

-----------------
Pulau Ubin Trip.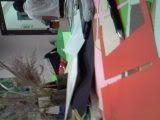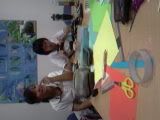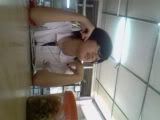 Mabel-stoner

-----------------