0000oooohyeah, I've uploaded the tracks for Play on Imeem already!
Three cheers for me! (; Go listen ohkay? So far there's only 2 plays, so pathetic.
Thanks.
& I've finished watching Corner With Love too!
Rented the vcd yesterday & finished today.
Ohmigosh, I'm sucha fast viewer!
I only watched the first and last disc, because I watched the rest on Youtube already.
Wasted 3bucks or so for two pathetic disc or should I say 30mins plus?
Hahaha, I didn't know I had already watched the whole bulk of the show!
I was kinda shocked when I've watched most of the disc.
And I only missed the last 30mins of the show!
How stupid of me.
>.<
Oh yeah, I've changed my skin after soooo long.
Planning to change one soon cos' I really dislike skins with navigations, but this one is nice to me.
So decided to change, hahah.
Bear with it. (:
--------------
WARNING: SUPER LONG POST! Don't read if you can't take it. (:
Awwww, byebye Changi, byebye trainers/instructors...
If you hadn't realised, I was away for a 3 days 2 nights camp @ Changi.
It was
G-R-E-A-T!!!
.
Too bad to those who didn't joined for whatever reason.
I miss all the trainers! );
AJI, Sharon, Sam, Brenda, Gigi, Wayne, Fahan, Ah Bao, Wei Long, Pei Zi, Zi Qi.
I'm sorry I didn't list all. I only know BRAVO'S trainers and some of alphas.
Oh and of cos
RANA ROCKS! (:
Sianching, Christina, Glenda, Salisha, Fiona, Hannah, Shirlene, Bao Ru, Isabella, Dorothy, Pei Ling, Cheryl, Shu Ping, Xue Lin, Christabell, Prana
Sorry for missing 4 people. );
Sorry for the lack of pictures cos' we're not allowed to bring any cameras or hps. There are spot checks. ); All the pictures are credited to MOE's website. (:
---------------------------
9th May
Ohwell, I was reluctant to go for camp even though I know the fact that it'll be fun & enjoyable
(From past Sec 3s experiences)
No camps are comfortable, except Interact Camps.
Coz' we go chalets, we get the privileged of aircons and beds.
And we have plenty of free time to do anything we want.
We assembled @ the usual time and place on Wednesday.
Everyone's carrying their BIG HUGE BAGS!
I can't believe that I actually laughed @ the sec ones last year because they're camp bags were HUGE!
Ohmg,
I'm sucha meanie
, haha.
So we waited for the bus to arrive and set off to Changi.
Slept my way to Changi.
Saw Bernice's sister the first thing I reached there.
Wasn't too sure if it was her though, cos I only saw her once.
"Is this Bernice's sister? Why is she here?" Shiqi.
"Oh, she's one of them mah." Qing.
Gathered in our groups and waited for the rest to reach.
Introduced our instructor & stuffs then checked into our dorms.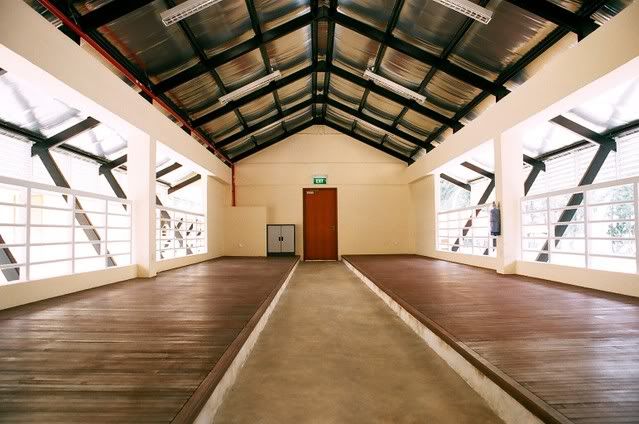 Haiz, wanted to sleep with Esther & Xingnan but I can't find them.
So just settled at the door and realized that they were looking for us too. );
There wasn't sufficient space I guess, so didn't sleep together in the end.
);
Had goal settings and ice breaking according to the camp booklet.
Followed by Mass Lunch which was kinda disastrous.
We weren't organized at all.
Aji told us to scream whenever a airplane fly pass us.
So that the people in the plane can hear us, hahah.
Then it rained after that and then most of the activities were canceled.
We continued with improvised rafting and sea rafting.
Didn't managed to do sea rafting, but at least our raft was successful.
Then we had kayaking.
I love the water confidence test! (: Haha, no idea why but i just love it.
Kayaking was fun, but it was drizzling.
And the sea/rain water went into my eyes, causing me to tear like crazy till I had to close my eyes cos i don't have hands to rub it.
So my whole kayak was in the wrong direction! Haha.
We were asked to blindfold ourselves and tour around the places.
I was damn frigging scared at first, scared of ghosts and stuffs I even fell off the step!
HAHA.
Then it was shower time!
We were allowed to choose what time of shower we wanted.
(1) Two people, one cubicle - 5 mins
(2) Three people, one cubible - ?? mins. (Not sure of this)
(3) Mass shower, 6 people - 7 mins.
I took the mass shower.
Of cos not take out your clothes and bathe lah!
Some people thought it was, hahah.
It was faster and had more time so I chose that.
Only washed my hair with shampoo, how pathetic.
And it was supper & reflection and lights off.
Ironically, I dreamt that I was hit by a car and was admitted to the hospital.
I was dying but no one knew that I was.
My soul came out of my body and tried to blog that I was dying.
But I didn't manage to blog about it. );
10th May
Our first station was the CRC - Creative Rope Climbing.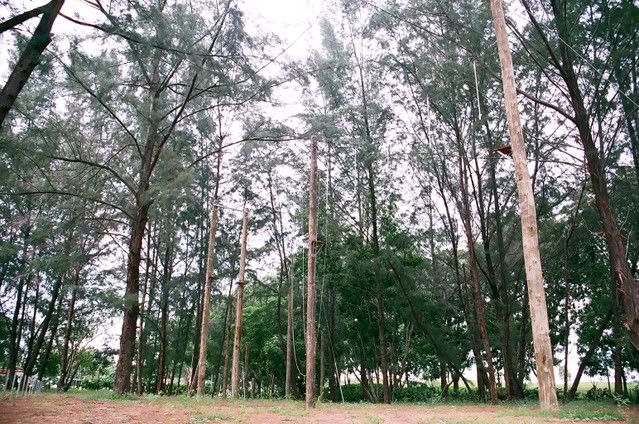 I know you can barely see what it is due to the trees.
It's just those rope activities you have to climb up & walk on strings.
Shirlene didn't dare to go up and cried like crazy.
She was given a 'discount' and then she climbed to the top and came down.
-.-
I climbed to the top and did whatever I need to do.
Haha, I was shivering like crazy and the stupid instructor wasn't even looking..
What if i fell? lol, but obviously I didn't.
Then we went for rockclimbing.
I'm proud of myself cos' i reached the top!
lol, rockclimbing is really tedious, my muscles are aching now.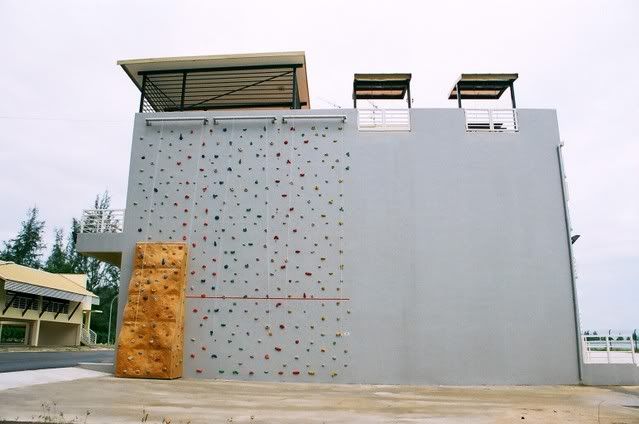 After that 3/4 of us did abseiling and 1/4 did Zipline.
How sad. ); I wanted to do Zipline.
Abseiling is so dumb. You just drop down cos the wall's too hard to abseil.
OH well, Shirlene got scared and she didn't do it, AGAIN.
Then we had campfire prep.
Mrs Lee arrived at 6plus I guess.
We were so high we actually thought of welcoming her.
So we ran all the way to her car and opened her door.
"WELCOME MRS LEE!"
"WE MISS YOU MRS LEE!"
"Oh, I'm sooo glad that you've enjoyed yourselves" - Mrs Lee.
We're fake. ;D
But she was damn happy.
Didn't bathed on the second day, just rinsed myself.
Kinda weird lah. Cos' there was ALOT of free cubicles on the second day yet I didn't bathe.
Served dinner and had campfire!
Campfire just rocked esp the part when the teacher's danced.
HAHA. Ms Ferng kena saboed by all the trainers, haha.
Fernglicious!
Had some time with AJI & SAM.
Surprisingly, Aji knows "Liang Shan Bo Yu Ju Li Ye" ! Ohmg, haha.
Cos we had some cheer and the last part was "AJI AJI WO AI NI"
And he sang... "Wo ai ni, ni shi wo de ju li ye~~"
So funny.
Too lazy to elaborate the rest.
And so, lights were out.
11th May,/u>
Supposed to have Beach Run, but it rained.
So we had devotion & evaluation.
Packed up and had area cleaning.
We were assigned to CRC.
It was kinda clean, so we were slacking around, trying to look busy so we don't needa help the rest.
HAHA.
Had photo taking and went home.
);
---------------------------