I can't wait for Huan Huan Ai/ Why Why Love!
Someone upload puhhweehs. ;D
HAHA, watched it already. I can't wait for the next episode and is there any OST for this?
lol, been trying to search for songs, but don't have. );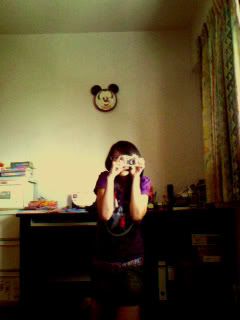 SNAPZXZ you. ;)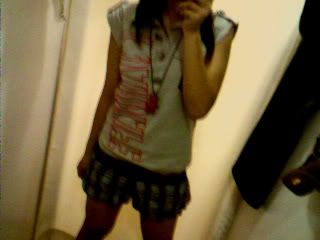 Whenever you see a miror, I think you'll see me.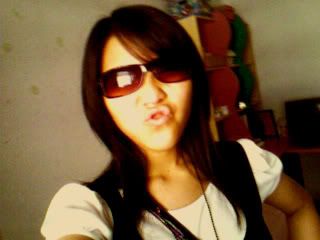 ----------
Was that your
white lie
or what? :/
I read Paddy's blog & realised that you've watched Shrek3 on Thursday.
Oh well, I thought ____ wasn't you. Perhaps, it's just coincidental that someone shares the same nickname as you.
But when you showed me J____ act cute picture on Friday, it confirmed something.
You went out with them, but you told me that you were out with your mom.

However you texted me:
You know what movie I'm going watch with my mom? tskkk.
---------
What?
---------
Pirates of the Carribean!! Goshh
---------
Lucky you didn't went with us to watch, if not you watch 3 times ah. Where you going?
---------
No reply.


Am I supposed to replace the word "mom" with Paddy and Joyce?
I'm confused. Are you lying to me cos' I wanted to watch Shrek3 with you on Saturday? (& i sounded enthu?)
Ohmg, I don't know what to do, that's why I felt emo.
Shouldn't keep anything from me right? Ohmg, I feel deceived by my _____ ______.
Paddy's blog entry dated on the 30th, which means it's a Wednesday.
But ____ was out with _____ on wed, ( I don't think she lied. It's impossible. _______ couldn't msg me when he's having training right?) so I guess Paddy edited the post like I do.
I'm confused, and I'm going to ask her later on MSN, oh man.
Wonder what will she say.

Few minutes/hours after...

Ohyeah, at least she admitted it. (:
Don't wanna elaborate much, but our frienship is as strong is rock I tell you, NO ONE and I really mean NO ONE even mothers/our bfs/whatever shit will break us up.
Once is enough. We've grown stronger I believe.
8 years, still counting on.

-----------


I needa clarify some thang.
MY MOTHER ISN'T YOUR DRIVER.
Some may be wondering why I'm saying this random thing, butbutbut...
I think alot people treat my mom as a driver to drive them here and there.
If it's on the way obviously my mom won't mind right? But hello? You people aren't staying near me or what, so what makes you think she'll bring you there and forth? :/
Just because I'm soft kinded(sort of), you people think my mom will agree to give a lift cos' of my word? Yeah, she did that for a few years, & has always been grumbling that she didn't wanna give them a lift except for a few of my bestfriends/goodfriends.

No matter how not on the way they were, my mom offered them a lift. But, some of them took it for granted and just said: "If my dad can't fetch me, then I tong bang your mom's car lor... No choice." Not going to say who is it. It shall be confidential. Did we even offer you? You didn't even ask.

I'm just irritated by the fact some people took it for granted.
);
So I'm going to Qing's house tmr by

B-U-S

! Thanks to you people, I have to suffer in the sun and sweat like mad and walk into the scary place... But it's worth it. (: Take it as a simple exercise, haha! Maybe I shall bring along an umbrella, hold it like a gu niang. (:

I don't wish my mom to be treated as a driver anymore.
-----------------------
Argh, I'm kinda irritated by some people.
I name her ABC from now on.
ABC is really really getting into my nerves now.

Can't she just sense that I don't really like her. (Ohkay, you people have guessed the name alr right?)
I've been rejected ABC whenever she asks me out.
I really hate going out with her. Can't she sense that I don't like her? Verbal or actions?
Argh, she's been asking me (yes only me! why me?!?! Not the rest?) out almost everyday, ALOT OF PEOPLE SAYS THAT SHE TREATS ME AS BESTFRIEND. I just hate going out with you, it's damn boring. And I never want to be with you alone, that freaks me out. I don't know how to handle you at all. Don't you just realise that I wasn't happy when you asked me out?
It's the normal phrase I say whenever you ask me out.


ABC: "You free this Saturday?"
Shiqi:"Why?"
ABC:"I wanna _____ ____" (Kept confidential, or else she'll be easily recognised)
Shiqi:"Orh"
ABC:"Go ask your mother ok/ Go with me okay?"
Shiqi:"Okay/ See First. "


Qing:" Wanna go out on Saturday?"
Shiqi:"Okay, set. Saturday, where where? With who?" *excited*


ABC: "Go with me ____ after school"
Shiqi:"Need to ask my mother."
ABC:"Tell her you got project lah"
Shiqi:"Aiyah..."


Shiqi:"Oh I can't go home with you today."
ABC:"Why?"
Shiqi:"I go out with Qing after school"
ABC:"Oh, you very last min leh."



See the difference? Hellooo, I am so not going to go out with you unless there's another person.
No way I wanna go out with you alone, it sucks. I'm sorry, but I really don't want. I've lied to you about my mother being strict, she isn't. In fact, she wants me to go out more, instead of being cooped at home. She's the only reason I can stay away from you. And stop scolding my mother okay, your's isn't any better.

PS: And if you people think I'm bad/mean doing this. I suggest you not, she's done nasty things to me before and I don't see how she define the word "Bestfriend", if it's really what most people says "She treats shiqi as her bestfriend."
------------------------
Been out for 3 consecutive days.

Wedenesday - Bugis with Esther
Thursday - Fareast/Marina Square with Mom
Friday - Dhoby Ghaut Area (Cathay & PS) with Qing.

And Saturdays sucha bore.

Yesterday I caught Shrek3 with Qing @ Cathay.
We agreed to meet at Dhoby then choose the venue, and guess what? She's late (Oh yes, again).
Called her up and guess what she said? "Don't move, I'll come. Just stay where you are."
And I was at Dhoby mrt station walking from NEL to NSL. You don't expect me to stop there right? So I walked to NSL and waited... She didn't appear.
I thought I looked weird so I waited for the bunch of people to come out of the train and pretended to walk to NEL. Did vice versa when I reached NEL.
And this cycle continued for about 5 times.
I think the MRT Crew already spotted me as a suspicious character already, haha.

So she reached and we decided to go to Cathay to watch Shrek3.
Purchased the tickets and stoned at the comfy chairs over there. (:
Actually wanted to buy the Shrek Ears but then... we didn't want to walk to PS just for those ears. And btw, it was out of stock when we asked after the show.
We were really upset.
Bought Crispy Chicken and ate @ the super tall chairs, acted like TAITAIS.
After which we purchased Kachang Putehs and brought it into the cinema.
Ohmg, the Kachang Puteh sucked like hell. (oppsie, it's just isn't my type)
Hahaha, but Shrek3 funny although

*SPOILER*

the plot wasn't really ermm special, it was cliche

*ENDZ OF SPOILER*



On our way back, we saw some street performers outside.
First look it was fun, but it got kinda lame.. As those people were self-entertaining themselves.
Haha, the rest of the people couldn't be bothered except for a handful.
While walking back we saw This Fashion & decided to walk in to talk a look.
Hahaha, ended up camwhoring in the fitting rooms.
(You'll see the pics later. (:)
& I was shocked that it was Qing's first time in This Fashion! Ohmgz.
She should be honored cos I introduced her This Fashion, hahaha.

As I've said, you'll see the pictures. (:
I'll show you the FAMOUS DUO.
THEY WILL HAVE A CONCERT TOUR I TELL YOU.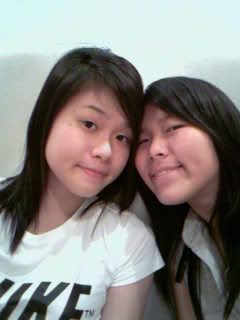 Qing & Me.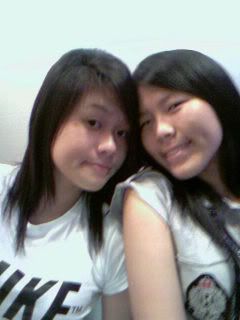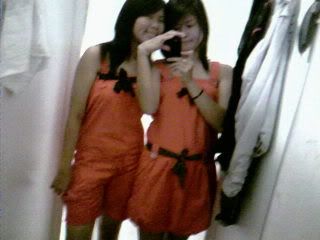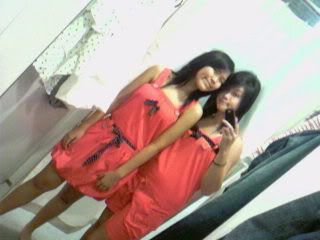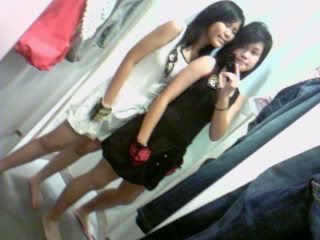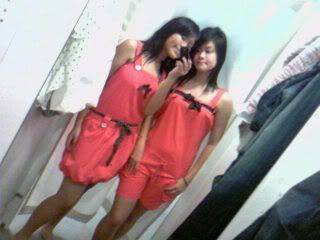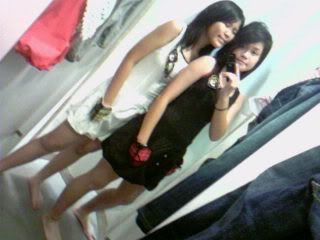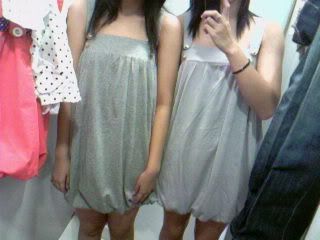 Pregnant ladies?!?! haha.



So not my style, haha! Just for fun hor.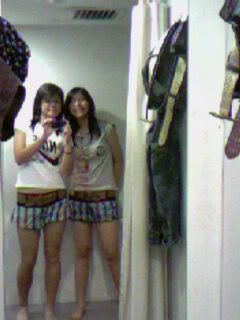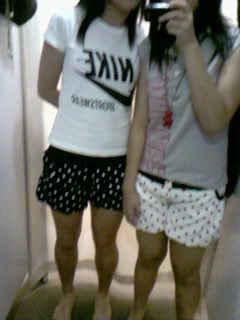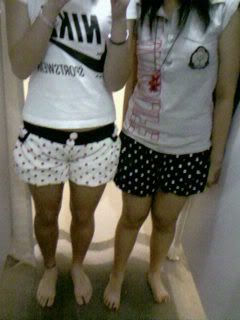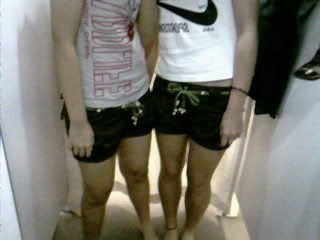 Labels: Friendster is depressing.